You can share the responsibilities of running a successful stream with your mods by granting them Dashboard access. Use this guide to set up your mods to help you with either Bot Supervisor, Editor or Full Control.
---
How to access mod permissions:
Step 1: Click on your user profile in top right corner of Creator Dashboard
Step 2: Scroll down to the 'My Managers' section of your user profile
Or just click here for quickest access to setting Mod permissions & granting access to your dashboard.
How to grant access:
To grant access to one of your mods you first of all click on the circle next to the access you want to grant, then click on Generate Invite Link.
Once you have this link you send it to the person you want to have that access, all they have to do is click it.

Once your mod has clicked on the link they can click on Channel in the top left of the site and choose your account to moderate instead of their own.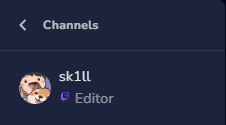 Note: If nobody clicks on the invite link within 72 hours of it being created the link will automatically expire. Also, it can only be redeemed once per link, both for security reasons.
User Level Permissions Available:
As you can see from the image above, the channel owner can grant access to many permissions to their mods and managers depending upon the level of access the owner decides to grant to their mods.