As seen in the previous stage, the final step of the initial setup wizard is to download the SE.Live plugin to install on top of OBS Studio. After installing it, please make sure to run the program as Admin.
When launching the program for the first time, we'll need to navigate to Settings > Stream. Choose your service to be Twitch, and select 'Connect Account'. Go through the authorization process. When it's done, the Twitch docks should pop open. You can close them for now or place them where you want. You can always access them later as long as you're logged into OBS with your Twitch account, via View > Docks.
Now, navigate to StreamElements in the top menu > Login.
Login with your account and authorize the service. Once this is done, the StreamElements chat and Activity Feed docks should open, you can close them for now as well (and access them from the StreamElements menu > SE.Live docks > Chat \ Activity Feed \ Media Request).
If you are requested to go through initial setup again within the program, after having done that in the setup wizard in your dashboard, simply start the process in SE.Live too. It should auto complete as it connects, and then you can press 'Do it later' and 'Leave'. The prompt for initial setup should then disappear.
Your SE.Live window should look like that after logging into your Twitch and StreamElements accounts (assuming only the Twitch docks were closed) -
Using OBS's features 'Profiles' and 'Scene Collection' you can save your docks layout and streaming settings (including connected account \ stream key). If you have several profiles saved, and you switch between them to stream to different services, after switching profiles in OBS, make sure you navigate to StreamElements > Logout, and log back in with the correct account.
The StreamElements menu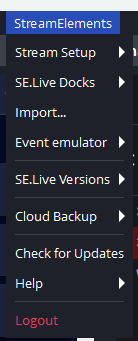 Stream Setup -
Edit Widgets Data - will allow you to edit your widgets data within SE.Live
Setup Bot & Tipping - will take you to initial setup (autocompletes if done)
Browse Overlays - will take you to the 'My Overlays' section of your dashboard
SE.Live Docks - will open\close the Activity Feed, Chat or Media Request docks
The Import button will prompt you to choose a service you want to import from
You can switch to SE.Live's most stable version or latest version via the SE.Live Versions option
Cloud Backup -
You can Backup your Settings And Content by choosing that option -

Make sure to enter a name for the 'Backup' option to become available.

You'll be able to manage your backups and restore from the 'Manage Cloud Backup' option. Do note that restoring previous backups will require restarting OBS.
Check for Updates will check if a newer version of SE.Live is available to download.
And via the Help menu you will be able to Report an Issue, or join our Discord via the Live Chat option.
Logout will log you out.
Checking your overlay before getting started
Now that we are familiar with the plugin and are logged in, we're pretty much ready to go! You can type in your Twitch chat to make sure you see it in your OBS and overlay, and you can get started with creating the amount of scenes you're interested in and decide what each of those different screens shows. For example, an 'In game' scene will probably have a different visual arrangement than a 'BRB', 'Stream Starting' or 'Just chatting' scenes.
Most creators like to show the recent activities in their stream, latest donations, for example, recent subscribers, etc. These are widgets that are called 'Labels'. Most commonly, you will have a visual asset as a background for the label. Alternatively you could just show that information as text on screen, without visual assets. The possibilities are endless!
To get started, navigate to your StreamElements dashboard > My Overlays, and press 'Edit' on the overlay that was created as part of the initial setup. In that overlay, you can add some widgets just to play around and see what is available. Make sure Live Preview is enabled, and save the overlay.
Copy the overlay URL, and create a browser source in SE.Live with that link -


That link contains sensitive information, please avoid exposing it to viewers or sharing it in any way. When editing an overlay in the editor, the link will be shown in the address bar, please be aware of the fact this is sensitive information!
We recommend creating certain widgets in their own overlays. You can create an overlay for your visual assets and a different one for your alertboxes. You can even create an overlay specifically for follower alerts, for example, by enabling only the follower alerts for that overlay's alertbox, if you want to show follower alerts in one position, and the rest on another position.
For any visual assets and overlays you may have, remember that the order of layers within OBS matters, so make sure to place the overlays' browser sources in a position that would reflect what you want to show, for example, mostly, we would want alerts to be on top of everything else, to thank our followers and subscribers for engaging with the stream, and not be hidden by anything else on screen.


Now that we're ready to start and we have a better understanding of how to go about it, we can choose a theme, a super theme and certain alerts or widgets from the StreamElements Themes Gallery, in case we want to utilize the wide variety offered there to customize our stream.
Let's continue to the next stage! :D