Media Request is a great engagement tool for your channel! It allows you to share your favorite media via YouTube and lets your viewers put their loyalty points into use to add and listen to their favorite music on your stream!
---
Let's go over the Media Request tool features and settings.
Navigate to the MR page
here
.
Note that the top orange bar stating that media request is being used somewhere else appears because it's also open in SE.Live as a dedicated dock (will be covered as well). In order to get rid of this message, you'll need to close the MR dock within OBS.Live. If you see this message in the SE.Live MR dock afterward - make sure you close MR on the website.

The reason for that is that both the dock and the website provide the same functionality - management and setup of media request. You can switch between the sources of control by pressing 'USE HERE', but we would recommend simply using a single source of management. Furthermore we suggest to use MR via the SE.Live dock - it's easier, more stable and renders the need to have a browser page open redundant.

Naturally, if you wish to allow viewers to add songs to media request, you will need to enable 'Viewer requests'. They will be able to add songs via chat, your profile page and your tipping page (if the option was enabled in the settings).
You can add your own media via the 'Add media' button, review past requests by pressing 'History' or remove everything via the remove button.
If you hover over the song entry's left 'handle' you can rearrange the list -

You can also remove or ban each entry -

Once the song is being played, you will be able to control the volume and scroll through the video through the actual YouTube buttons, and skip to the next (or previous songs) with the Media Request controls -


Assuming you already have the MR widget in your OBS's active scene, when the song is playing you'll hear it via OBS and not Media Request on the website. That's why the YouTube volume icon remains in 'muted' state. Moving the volume slide though, will adjust the volume in which you hear the song in OBS (be gentle when sliding left and right).
Make sure the SE.Live dock for Media Request is not open if you decide to use the website. The right side controls (Show on stream\ hide video) allow you to display the widget on stream with or without the video ('hide video' means we will just see the progress bar for the song, if the widget was set to show it).
Now, let's go over some of the settings!
Free requests, tipped or both?
If you choose either 'Both' or 'Via Tip', the result would be shown in your tipping page - users will need to tip and add a clip in order to request a song -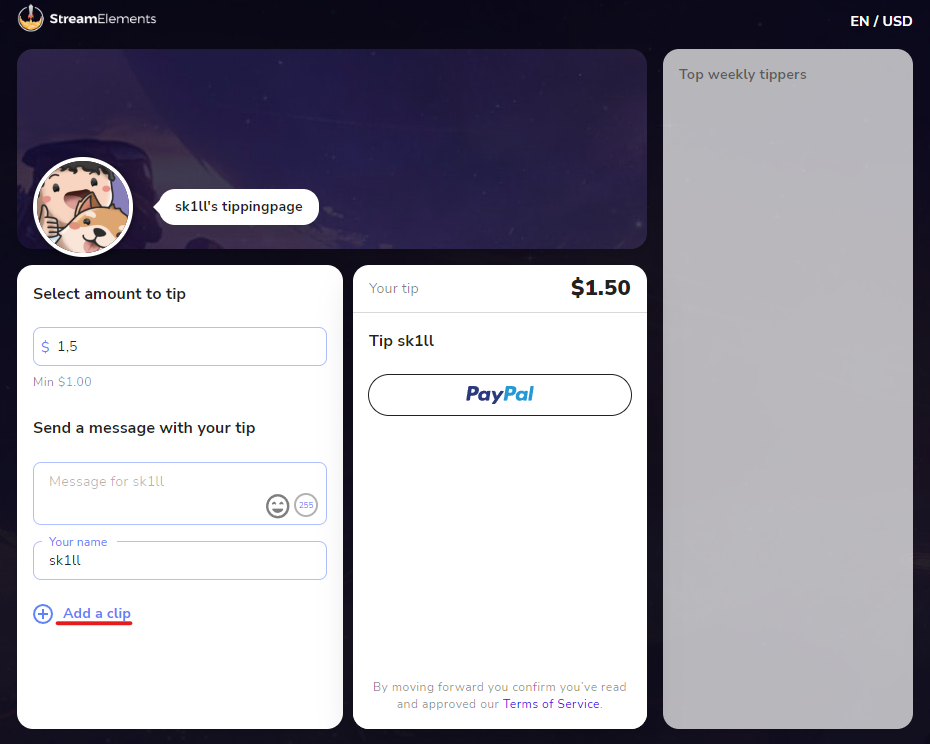 For free requests, users will utilize their loyalty points to request for songs from chat or your public song request page [streamelements.com/UserName/mediarequest] -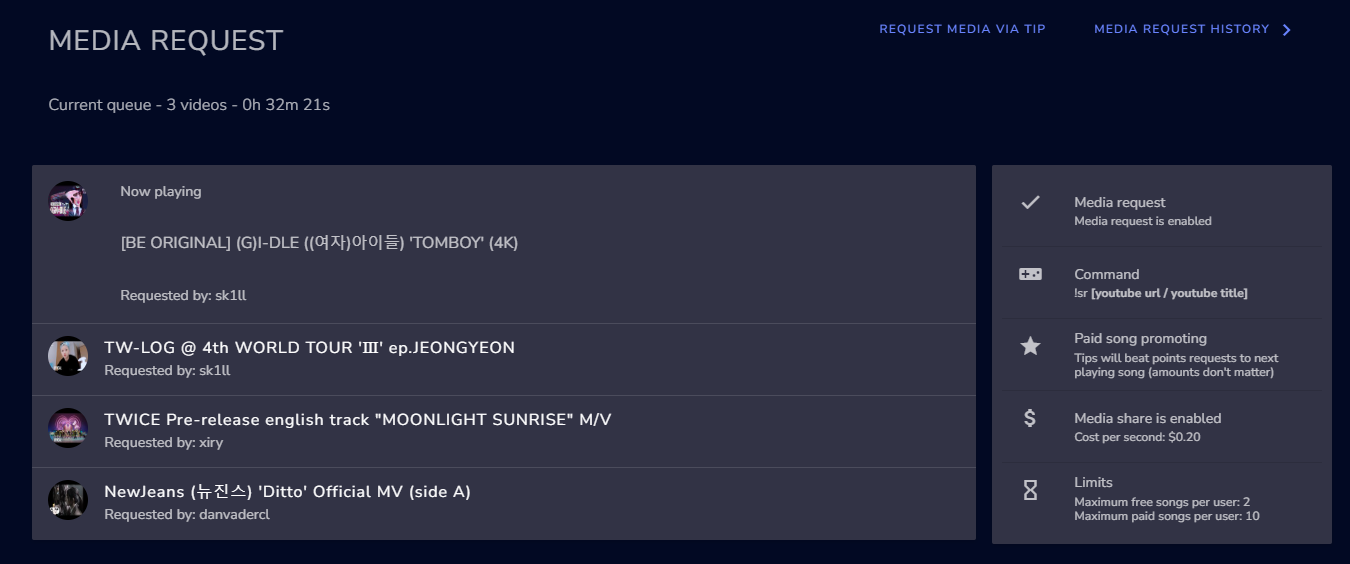 Additional settings for tipped requests -

Prioritize tipped requests will do just that and start to immediately play a tipped request if the currently playing song wasn't requested via a tip as well.
You would want to enable cost per second if you'd like to limit the request's duration. Lastly you're also able to set a minimum amount to tip in order to request a song.
These settings are pretty straight forward:
Autoplay media will simply auto play it. Disabling it means you'll need to press play for the next song to play.
Limit the queue if you wish, you can set a max duration for free and paid requests, and limit users' requests. If you have a playlist you want to use as a backup playlist (which will play as soon there are no new requests in queue) - just place the link to it there. Decide whether or not you want to play the songs on shuffle mode.

For free requests, you set the cost per request, subscriber discount (in percentage) and minimum required user level. Only that user level and above will be able to utilize the !sr default command, linked to the Media Request tool.

We then have some YouTube related settings and the Advanced section -

If you tick the checkbox for 'Limit to music' - only music will be accepted.
Videos you banned will be added to the blacklist (you can also manually add them with a URL), banned tags can be added and an auto filter can be set (elaboration on filtering levels is provided on the page itself as seen above).

The Advanced section allows us to enable skipping mid-track when a new request is made. You can enable voting to skip a song and how many votes are needed to do that.
Exempt user level means that users with this role or higher will not be affected by loyalty cost and other limitations.
Lastly, you can set a delay between videos.
The MR settings page will look different based on the request method you choose (Free\ Tipped\ Both).

The SE.Live Media Request Dock
As mentioned, if you're using the dock - make sure to navigate out of Media Request on the website.
All of the options that are available on the website are also available within the dock. You can pop it out and resize it, or keep it docked as shown above. The buttons above allow you to access the settings, disable or enable viewer requests, and show or hide the video.
You have volume controls if you hover over the speaker and you can scroll along the song's progress bar if you wish.
'SHOW ON STREAM' means that the Media Request widget will be displayed in your overlay (as we already establisher, if the video is set to off, only the progress bar will be shown).
You can view the queue history to add past songs to the queue or remove them, delete requests, remove all requests and add your own media.
You can grab each song (as shown above on the website) to rearrange the queue if you wish.

An addition to the SE.Live Media Request dock's settings would be the Hotkey settings -

These will allow you to control Media Request at the press of a button.

On occasions you might see the dock completely white or just blank. You can reload it by pressing the icon on the top left of the dock, or close it completely and re-opening it from the StreamElements menu at the top bar > SE.Live Docks > Media Request.
In case it's still behaving, simply relog into SE.Live by navigating to StreamElements > Logout and then just log back in.
Adding the widget
We suggest that you create an overlay dedicated to Media Request. That way you will be able to control the browser source itself if you want to adjust the widget size and positioning. The overlay and browser source both can be set to 1920 x 1080p.

In the widget settings you can customize how you'd like it to look -

Make sure to save the overlay after setting everything up!
Add the browser source within OBS.Live, play a song with the video on, showing on stream, and there we go -

In the default command page you will be able to recognize Media Request related commands by their description. It's not a bot module so it doesn't have a green tag indicating the module it's related to, but some of the functions we enabled in MR settings are available as commands. For example !srclear !skip !songqueue !removesong !play, etc.